Need a Dental Checkup & Cleaning?
St. Simons Island General Dentist
Dental Cleanings & Checkups
We are pleased to offer comprehensive general and family dentistry in St. Simons Island, GA. You can feel confident that we can always provide the care your smile needs. We have dental services for repairing damaged teeth & gums, as well as protecting your teeth from decay and damage in the first place.
If it has been longer than six months since you last visited the dentist, we encourage you to contact us today to schedule your next appointment. We also invite you to contact us with any questions or concerns you may have about your dental health.
General dental care for the whole family! We are eager to care for you and your family!
We invite you to come in for a dental check-up. Please contact us to schedule your preventive dental care appointment.
Are you having Pain & Discomfort?
St. Simons Island General Dentist
If you are experiencing pain in your teeth, gums or jaw, you should see a dentist as soon as possible. Pain in your teeth or gums, sensitivity, cracks in your teeth or visual bleeding in your mouth can all be indicators of a larger oral issue. Having a highly-trained dentist diagnose and treat you is imperative.
Dental Associates Can Help Alleviate Your Pain With Services Like
How can St. Simons Island Dental Associates help you with your toothache?
Call our office today if you are experiencing a severe toothache or pain of any kind. We will do our best to see you as soon as possible! We will bring you in for a focused examination of the impacted tooth or area of your mouth, that will include an x-ray of the area and a thorough doctor examination. After the exam our doctor will give you a treatment plan on how to fix the problem.
A toothache is defined as pain in or around a tooth.
Toothaches can be caused by:
What are the symptoms of a toothache?
Want A Beautiful Smile?
St. Simons Island General Dentist
Cosmetic & Restorative Dental Treatments
Are you embarrassed to smile? Are you missing teeth? Or are your teeth stained or yellow? Do you have a gummy smile? We offer many services to help you improve your smile, and to give you the confidence to smile wide every day. Cosmetic and Restorative Dental Treatments can restore your smile to the luster it once had or make even better than it ever was!
Our smile treatment includes
Dental Mouth Guards
St. Simons Island General Dentist
We are proud to provide custom-fitted dental mouth guards to our patients in our St. Simons Island dental office.
Do you need to stop snoring?
Are you grinding your teeth at night and suffering from jaw pain as a result?
Do you want your children's teeth to be protected while playing sports?
If you answered yes to any of those questions, then we have solutions for you!
Custom-Fit Sports Dental Mouth Guards
Hundreds of thousands of Americans a year sustain dental injuries during competitive play, and a large number of those injured are children. A dental mouth guard can protect their beautiful smile!
Research has shown that wearing custom-fit sports dental mouth guards can reduce the risk of severe injuries. The American Dental Association (ADA) estimates that the use of mouth guards prevents approximately 200,000 injuries per year in high school and college football alone.
Anyone who plays sports or engages in athletic activity, whether competitive or not, can protect themselves by wearing an athletic mouthguard. We offer custom, form-fitting mouth guards to patients of all ages.
Damage to the jaw and teeth can be caused by everything from a direct contact to an awkward or misplaced step while running. Custom-made Intact mouth guards provide stability to your jaw and cushion the blows that can cause severe dental injuries, like broken teeth, fractures in the jaw, gum lacerations and injuries to your lips or tongue caused by your own teeth.
Growing evidence suggests that quality, properly fitting dental mouth guards also reduce the forces that can cause concussions and neck injuries.
We can ensure that your mouthguard is tightly fit to your teeth to provide maximum protection. Mouth guards in different colors and designs are available.
STOP GRINDING TEETH AT NIGHT!
TMJ disorders (also called TMD disorders) cause tenderness and pain in the temporomandibular joint (TMJ) — the joint on each side of your head in front of your ears, where your lower jawbone meets your skull. This joint allows you to talk, chew and yawn.
What are the symptoms of TMJ Disorder?
Pain or tenderness in the face, jaw joint area, neck and shoulders, and in or around the ear when you chew, speak, or open your mouth wide
Limited ability to open the mouth very wide
Jaws that get "stuck" or "locked" in the open or closed mouth position
Clicking, popping, or grating sounds in the jaw joint when opening or closing the mouth
Difficulty chewing or a sudden uncomfortable bite
Swelling on the side of the face
Toothaches
There are several options for treating TMJ/TMD disorder, with surgery being the last resort option. We offer custom-fit night guards – or splints – that can help you stop grinding your teeth at night. We will create a night guard oral appliance specifically for you, so that it will fit comfortably and not prevent you from sleeping. By managing your Bruxism, we can lessen the symptoms of TMJ.
If you would like to learn more about our custom-fit night guards, call us today to set an appointment.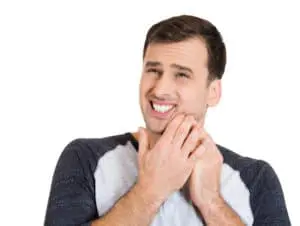 Stop Snoring with Snore Guard Appliances
Millions of people and their loved ones around them suffer from the adverse effects of snoring. If you snore, you are not getting the rest you should from your sleep. You may also be at risk for sleep apnea and other serious health disorders.
There are many different ways to stop snoring, many of which include painful, expensive surgeries, or other methods that are not safe.
Fortunately we can now treat your snoring with a dental Snore Guard appliance. These simple, low cost, pain free, proven treatments are effective the first night they're used.
What are Snore Guard Appliances?
These small oral appliances are used only during sleep. They prevent the jaw and tongue from dropping back into the throat and closing off the air passage. Keeping the air-way open greatly reduces snoring.
Each appliance is designed to be custom-fitted to the individual. Fitting is quick and painless and only takes a few minutes. You can stop snoring at night!
If you would like to learn more about how to stop snoring, call us today to set an appointment.